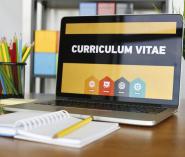 7 March 2023
STUDENTS
As part of the Fit & Smart Student framework, this event is designed especially for our Bachelor's and Master's students.
The aim of this seminar is to familiarize students with the basic principles of preparing a high-quality curriculum vitae. However, the CV is not the only document you send together with your application. Oftentimes, you are also required to send a cover letter or a letter of recommendation. Therefore, our seminar will also include proper strategies of relating your CV to these other documents. Most importanlty, everything will be shown on specific examples from the real life.
Tuesday March 7, 2023, 14:00 - 17:00, Green Lecture Hall, Celetná 20, Prague 1.
Lecturer: PhDr. Miloš Brunclík, Ph.D.