An initiative was created at Charles University, which brings together the demands and offers of volunteering help related to the war in Ukraine. If you want to become volunteer, you can get involved.
1 April 2022
In the link here you can find the current state of accessibility of the main buildings of the Charles University and its components.
23 February 2022
Diagnosis of SLD, ASD, ADHD
How and where can students be diagnosed?
Click here for further information
3 January 2022
We offer counselling in English, free of charge for all CU students and employees. Should you need our help to deal with your study, family, personal or other problems, you are welcome to come to our Counselling Centre for International Students.
2 September 2021
Are you dealing with a difficult situation? Thanks to the new Rector's directive, you can ask for assistance.
20 July 2021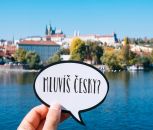 Do you want to know more than "Jedno pivo, prosím" in Czech? Don´t miss the opportunity and take the Czech language course organized by the CU SWC!
3 January 2022
Did you know that Charles University has zero tolerance for sexual harassment? To find out what sexual harassment actually is and where you can turn to for support, click here.
16 September 2021