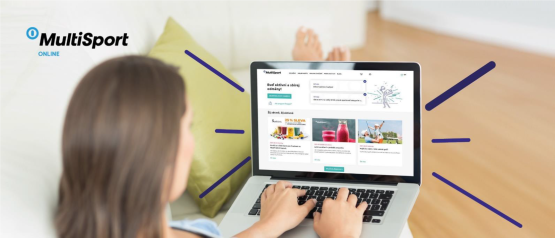 Update:
DUE TO THE CLOSING AT THE END OF THE YEAR, THE DEADLINE FOR ORDERING NEW CARDS AND CANCELING EXISTING CARDS WILL BE REDUCED IN DECEMBER UNTIL 13.12.2023
In the period 6-19 November 2023, employees will have the opportunity to order an online card to try out for the whole of December for free. In this context, I also advise that 23.11. there will be a Multisport stand at UK Point where these test cards will be displayed while you wait.
More information here.
Dear colleagues,
we would like to introduce you to the new online ordering system My MultiSport, thanks to which you can from 16. 3. 2022 order and manage your MultiSport cards quickly and easily at my.multisport.cz.
You can also look forward to valuable rewards, to online exercise lessons and thematic articles at My MultiSport.
I HAVE A MULTISPORT CARD
How to register for My MultiSport?
1. Go to my.multisport.cz.
2. Register using your MultiSport card.
3. Enter your password.
4. Complete the registration.
5. Enjoy the exercise and relaxation the MultiSport card offers you!
---
I DON'T HAVE A MULTISPORT CARD YET
How to register for My MultiSport?
1. Go to my.multisport.cz.
2. Sign up with your business email address or assigned code.
3. Activate your account using the activation email that will be sent to your inbox.
4. Order a MultiSport card and wait for it to arrive at UK POINT, Infodesk, Celetná 13, Praha 1, for Faculty of Medicine Pilsen, available at the Faculty's HR Department.
5. Enjoy the exercise and relaxation the MultiSport card offers you!
---
I DON'T HAVE MY WORK E-MAIL ADDRESS
• In such a case you need to log in through the person at your faculty in charge of MultiSport card. See the updated list of contacts below.
• For newly requested cards fill out two copies of the Wage Deduction Agreement of the relevant faculty and file it to the person in charge of MultiSport card management. You can find the Agreement directly in the Documents section of the My MultiSport platform.
• You can request a new card before the 15th of every month. Any changes done after this date will take effect on the month after next.
IMPORTANT INFORMATION
• MultiSport cards are intended for the employees of the CU Rectorate, Karolinum Publishing House, Dormitories and Refectories and Premises and Facilities Administration, Faculty of Social Sciences, Faculty of Humanities, Faculty of Arts, Catholic Theological Faculty, Faculty of Law, Faculty of Science, Faculty of Education, Hussite Theological Faculty, Faculty of Mathematics and Physics, Institute for Language and Preparatory Studies, Faculty of Medicine in Pilsen (other faculties can sign up as well, if interested).
• MultiSport card can be requested through the Charles University by full-time employees or part-time employees (half-time or more). It cannot be requested by employees with less than half-time employment or employees not under a proper full employment agreement.
• The lump sum is deduction from the employees wage monthly.
• In case you have questions or need anything explained, please contant the person responsible for MultiSport card management at your fakulty. See the list below.
MULTISPORT CARD PRICES
• Employee card: 790 CZK / month (from 1.1.2024: 1100,- CZK)
• Accompanying card: 1200 CZK / month (from 1.1.2024: 1600,- CZK)
• Children's card: 500 CZK / month (from 1.1.2024: 500,- CZK)
Each employee who has an active employee MultiSport card can order 1 adult companion card and up to 3 child cards for children up to 15 years old.
If you have any questions, do not hesitate to ask Jana Sikorová .
UP-TO-DATE LIST OF MULTISPORT CARD MANAGEMENT COORDINATORS
CU Rectorate
Radka Kamenická
Dormitories and Refectories
Veronika Ryšavá
Karolinum Publishing House
Kateřina Hejnová
Premises and Facilities Administration
Dana Bečvářová
Catholic Theological Faculty
Ing. Eva Procházková
Hussite Theological Faculty
Navrátil Jiří
Faculty of Law
Markéta Drubová
Faculty of Medicine Pilsen
Petra Vakešová
petra.vakesova@lfp.cuni.cz
Simona Šimandlová
Faculty of Arts
Zuzana Pálková
Faculty of Science
Ing. Monika Vernerová
monika.vernerova@natur.cuni.cz
Faculty of Mathematics and Physics
Katarína Brettschneiderová
Faculty of Education
Daňková Alena
Faculty of Social Sciences
Monika Čejková
Faculty of Humanities
Mgr. Lenka Korčáková
Institute for Language and Preparatory Studies
Bc. Eva Kociánová
Third Faculty of Medicine
Mgr. Jaromír Chlapec
Dormitories and Refectories
Šárka Dostálová
Faculty of Social Sciences
Petra Musilová
Faculty Of Pharmacy Hradec Králové
Zuzana Hemerkova
Lenka Cermanová