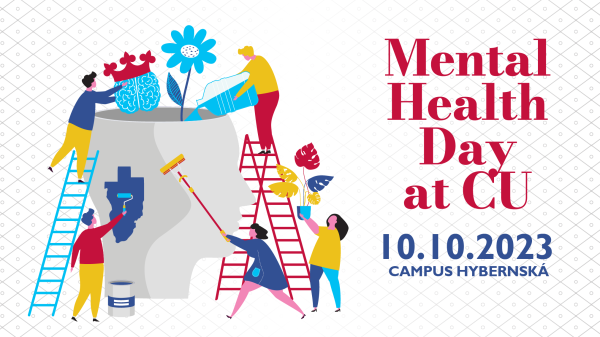 The 10th of October is International Mental Health Day, in which Charles University will also participate.
Make a note of this date in your diaries, calendars or mobile phones so you don't miss out on an exciting program that will take place at the Hybernská Campus from 2PM.
You can look forward to these lectures, which will be in English, we recommend registration in advance.
- ADHD and diagnosis REGISTRATION HERE
- Mind, Body, and Myths: Psychobiology of Health REGISTRATION HERE.
You'll also have the opportunity to learn about the services and support provided by the Counseling Center of Charles University and its individual faculties in the field of mental health.
You can also sign up for the workshops of Relaxation and Breathing techiques - please register in advance HERE
There will also be additional activities organized by Charles University student's associations and other organizations:
- Information booths with activities
- Relaxation place
- Wall of Joy
- PubQuiz with the topic of mental health
Tip: Also the Faculty of Social Sciences has a special program for Mental Health Day, more information HERE.
We are looking forward to see you there!
If you have any questions or suggestions, please contact Mgr. Anna Vozkova at